Kanta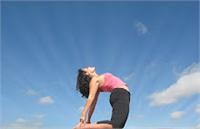 Kanta's first experience of yoga was at the age of six in her hometown Mexico City. She spent 12 years as a long term resident student of yoga, meditation, and philosophy in Siddha Yoga Meditation Ashrams in India, the United States and around the world traveling with her main teacher, Gurumayi Chidvilasananda. She has also spent hundreds of hours with some of the world's leading yoga teachers and Yoga Schools: among them Ashtanga Yoga, Iyengar Yoga, Vinyasa Flow and is an Anusara-Inspired™ Teacher with over 500hrs credit hours towards Anusara Yoga Certification, one of the most professional and demanding programmes in the industry of yoga teaching. Kanta's classes are creative and dynamic and have a strong emphasis on breathing and alignment though always with a flow to keep the pace invigorating. The intention of every class is to cultivate strength, develop awareness and help students find balance, light-heartedness and rejuvenation within themselves. In her teaching she expresses her deep love and gratitude for yoga and her teachers and joyfully shares her lifelong experience and practice with her students. She works with her brother Vidura in their company Inner Splendor Media, http://www.innersplendoryoga.com/blog an international company dedicated to offering quality media products to support well being and deepen the experience of yoga and meditation.
Kanta instructs the following:
Level 1-2 classes are for those with some experience of yoga – intermediate and more challenging poses are introduced but variations and modifications will be offered. If you are looking to move beyond your level 1 class, this is for you!

Prices:
Single Class €16
Included in Unlimited Class Passes/ Class Packs
http://yogadublin.com/class-prices




Stepping into the flow of Grace is the highest purpose of Anusara Yoga. Join Kanta Barrios for a dynamic, fun, and inspiring Friday Evening Yoga Practice.

In this class we will play with a heart-oriented philosophy theme and integrate the biomechanical principles of alignment with conscious balanced action to celebrate Grace and the experience of innate goodness that lies within each one of us.

Open to all levels.