Sinead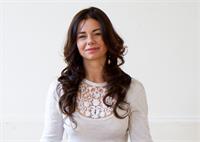 Sinead has been teaching yoga in Dublin since, 2001. Since that time she has constinoulsy expanded her knowledge through continued learning such as; On going Yoga Teacher Training with well over 800 hours to date; Completing an ITEC Diploma in Diet and Nutrition & Anatomy and Physiology in 2004; Keeping up to date with development in optimum nutrition; Sinead also retreats to a 10-day silent meditation course once or twice a year. She enjoys sharing insights and knowledge she has gained with others through her work. She qualified as a Holistic Health Coach in February 2013.
Her style of yoga is a steady pace of Vinyasa Flow with an emphasis on a meditation that focuses, grounds and centres body, mind and soul. She also teaches pranayama techniques taught to her by Sri Dharma Mittra. Sinead is also a trained contemporary dancer, and this reflects in her style of flow yoga.
Having completed Dr Michael Arloski's Wellness Coaching for lasting Lifestyle Change and Wellness Mapping 360º, Sinead also offers various forms of Holistic Health Coaching including; private one-to-one coaching; detox coaching; and health coaching in the workplace. She uses her wealth of knowledge and experience within the wellness field to guide people towards a healthier and happier lifestyle.
Sinead says: "I am most grateful to all who come to my yoga classes and wellness programs. The path of teaching yoga & guiding others in holistic health has been very rewarding. It's the people I meet along the way that keep me inspired to progress.
Through my blog I share with you philosophical reflections, physical yoga tips and personal experiences along my yoga-life path.
I try do my best at all times guiding others warmly and from my heart in the understanding that a holistic attitude to health including meditation, self-reflection, optimal nutrition, yoga and exercise, improve peoples lives."
Sinead is currently not instructing any classes.