Olwyn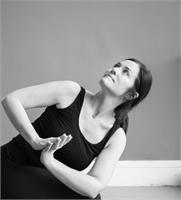 Olwyn has been practicing yoga for over 10 years and during that time has embraced how her style has evolved from Ashtanga to Vinyasa Flow. Now she is enjoying the wonderful complement to all her studies that Anusara brings both personally; to her practice and to her teaching.
Over the years she has had the good fortune to travel and study with some of the world's best known teachers. After completing her teacher training in 2004 at Yoga Vidya Dham in India she went on to further her training with Shiva Rea, along the way doing classes and workshops with Pattabhi Jois, Baron Baptiste to name a few.
Now a mother to Maia, last minute trips to the US and India have had to end. She couldn't feel more blessed that so many wonderful teachers are choosing to come to Dublin so her yoga journey can continue.
Olwyn instructs the following:
Yoga for Everyone is a community priced class, discounted from our regular price of €16 to €12.

It is a mixed level class open to all levels. The teacher will give appropriate options and modifications depending on the level.

However, if you are a complete beginner, it is not an ideal first class.




Level 1-2 classes are for those with some experience of yoga – intermediate and more challenging poses are introduced but variations and modifications will be offered.

Not for beginners.




Understanding healthy alignment in urdhva dhanurasana is key not just for safety in our backbends but also to feel invigorated and energised after we do one.




Knowing what muscles need to be strong and open to support the skeletal system is key - and then applying this knowledge to your own body; or if you are a teacher your students' bodies so it can be achieved.




This workshop is a must whether you are struggling to push up, looking to improve or wanting to advance with some variations.










*10% Discount for Yoga Dublin Monthly Members




Expect a balance between physical postures, dynamic movements, breathing exercises and elements of relaxation to leave you feeling refreshed and invigorated. Our classes are fun and challenging and open to both beginners and the more experienced yogis. Each class is individually sequenced by the teacher, adapting to the needs of the class. They will contain varying sequences and poses to keep the body challenged, yet will have enough familiarity to aid progression. Leave our classes lighter, energised, refocused and ready for the rest of your day.

Prices:




Our 4 week beginners yoga course is a comprehensive introduction to yoga.

During these 4 weeks you will be introduced to the basics of yoga, to lay the foundations that will help you feel ready to jump into any group class confidently or begin a home practice.

We have a maximum of 15 people in each course to ensure you get the care and attention that is needed from your yoga teacher. Each class is now 90 minutes long so you have more time to dive into new topics covered (with a little refresher of the previous week) that builds your understanding and abilities in the right order.

€65 for 4 Week Course

*10% Discount for Yoga Dublin Monthly Members

**

€10 Off 30 Day Introductory Offer with this Course Purchase