Rosie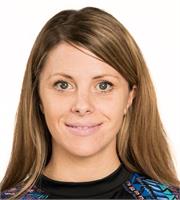 Rosie Begley RYT teaches Vinyasa Flow; completed her training as a Vinyasa Flow Teacher with Dave Curtis in 2010 at Yoga Dublin Studios.
She has been practicing Yoga for the past 10 Years. Her interest in becoming a teacher derived from her travels to India in 2004. She believes that yoga is a passion, uniting breath and postures to achieve balance and well-being. She believes that yoga is a lifetime of learning and is constantly continuing her yoga education by attending workshops, trainings and retreats continuously improving her classes.
In addition to teaching Yoga, she is a certified Reflexologist from The Academy of Reflexology, Limerick. Catch her enthusiasm for all types of yoga, music and dancing.
Rosie instructs the following:
A flowing style of yoga, co-ordinating breath and movement to give strength and refinement.

Level 1 classes are open to complete beginners, those in the initial stages of yoga practice or those seeking a gentler asana session.

Vinyasa flow classes can either be slow flow or dynamic flow –please check the teacher bio for more details.

Prices:

€16 for a single class
Included in Unlimited Class Passes/ Class Packs

http://yogadublin.com/class-prices