Mich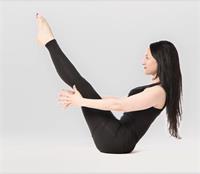 Having trained in various forms of dance as a child and teenager, Mich discovered yoga after abandoning dance due to a back injury following a car accident. She was immediately attracted to its balance of mind, body and spirit and marvelled at the healing effects yoga had on her constant back pain.

During her yoga journey, Mich found herself attracted to the grace and precision of Pilates, in particular its focus on spinal alignment and the building of a strong, healthy core to help heal and alleviate back injuries.
Within a short of while of regular Pilates practice, all those remaining back pains from the car accident began to vanish until eventually she was pain-free. As a result, Mich became a devotee of the Pilates method and immediately after completing her yoga instructor training, trained to teach Pilates.
Mich has also trained in Pre and Post Natal Pilates, Pilates for Osteoporosis, Pilates for Spinal Injuries, Pilates with Props, Level 3 Advanced Matwork and Reformer 1 & 2.
In January 2013 she trained in BarreConcept which she found to be the perfect blend of all her great loves in life--ballet, yoga and Pilates. She went on to complete several other ballet barre training courses, including Pilates at the Barre.

Mich is also a qualified massage therapist, a Zumba Fitness Instructor and recently qualified in Pole Dance Fitness. She won the title of Pole Dance Ireland Princess 2015.
Mich instructs the following:
This class will take you through the essential Pilates exercises with higher reps at a quicker tempo.

Suitable for intermediate/ advanced students only. You must have attended at least 20 Pilates classes before taking this class, consult your teacher before moving up a level.

Not suitable if pregnant. If you have a regular yoga practice at Yoga Dublin and want to continue attending non ­prenatal class only some teachers permit students to attend when pregnant so please notify us when booking to check with the teacher.




For those who have attended Pilates level 1 or 1-2 for a while (at least 15 classes), not for beginners.

Not suitable if pregnant. If you have a regular yoga practice at Yoga Dublin and want to continue attending non ­prenatal class only some teachers permit students to attend when pregnant so please notify us when booking to check with the teacher.




For those who have attended Pilates level 1 or 1-2 for a while (at least 15 classes), not for beginners.

Not suitable if pregnant. If you have a regular yoga practice at Yoga Dublin and want to continue attending non ­prenatal class only some teachers permit students to attend when pregnant so please notify us when booking to check with the teacher.




The Pilates Method is an exercise system focused on improving flexibility and strength for the total body without building bulk. It is a series of controlled movements engaging your body and mind,which aims to promote a feeling of physical and mental well-being.Benefits include toning the stomach, buttocks, thighs, upper body. Increasing strength, flexibility, improving circulation and respiratory function. Boosting immune system, improving posture and lowering stress.




Not suitable if pregnant. If you have a regular yoga practice at Yoga Dublin and want to continue attending non ­prenatal class only some teachers permit students to attend when pregnant so please notify us when booking to check with the teacher.




Our Ballet Barre Workout combines ballet inspired postures with elements from yoga and Pilates. The barre is used as a prop to balance while doing exercises that focus on isometric strength training (holding your body still while you contract a specific set of muscles) combined with high reps of small range-of-motion movements. Benefits include improved posture, coordination and flexibility while toning your arms, stomach, hips, thighs and glutes.

Who's this class suitable for?

Those with previous Yoga or Pilates experience.

Postnatal: It is recommended that you don't take up Ballet Barre classes until 12 weeks after the birth.

This class is not recommended for those who suffer from any type of knee issues.


Prices for Ballet Barre:

€16 per class

€90 for a pack of 6 classes

Included in Introductory Offer/ Monthly Membership