Colm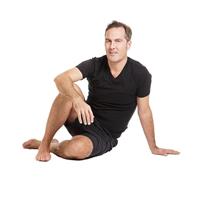 Colm found yoga in his late twenties, for treating some back pain issues, he also found the benefits of stress reduction & noticed an overall change in this well-being after some time.

He completed training in the Iyengar method, and began teaching as a hobby. Then he explored yoga trainings, and travelled around the world, to work with other teachers, now in the Astanga system.
Years passed, his young family arrived, and a practice, and a teaching system embracing the classic alignment of Hatha ,but the flow of vinyasa emerged.
Colm is fond of hiking, cycling, swimming and dog-walking when not on a yoga mat. He also likes naps, and strong cups of Barry's tea in mid-afternoon.
Colm is currently not instructing any classes.