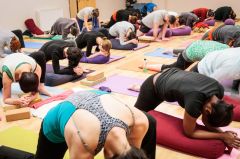 Yoga Dublin News & Events
It's with great excitement that we unveil our new website.
Aside from an updated look, the new website features a new Mobile App which allows you to book your favourite classes on the move. To download just Click Here
In addition, we've added a new blog section in order to bring you better/fresher content, update you on new and exciting things happening at Yoga Dublin & The Powerhouse.
We think you'll like the new look and we're sure you'll like the improved navigation and fresher information!
New to the studio?
The first step is to create a profile for yourself on our website.
Fill in your details here and start booking your classes, courses, workshops.
What kind of classes do we offer?
Between our 3 studios in Ranelagh, Dundrum and Rathfarnham we offer a range of Yoga, Hot Yoga,
Pilates, Prenatal & Postnatal Yoga/ Pilates, Mum & Baby Yoga, Baby Massage, Zumba, TRX Training,
Tai Chi & BarreConcept
Find out more about our the different types of classes we offer here
Gift vouchers
Stuck for gifts ideas?
Why not pick up a Yoga Dublin gift voucher & let your them chose between our many different classes.
Available in store or you can select design, purchase & download them online here
What could be simpler?